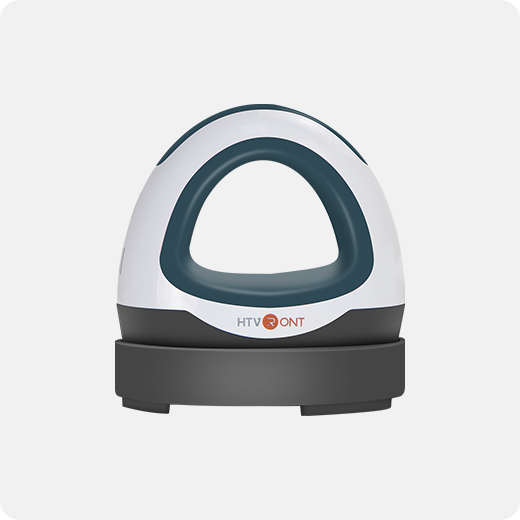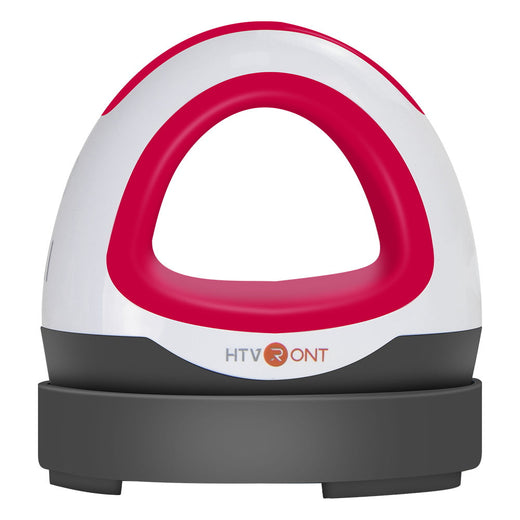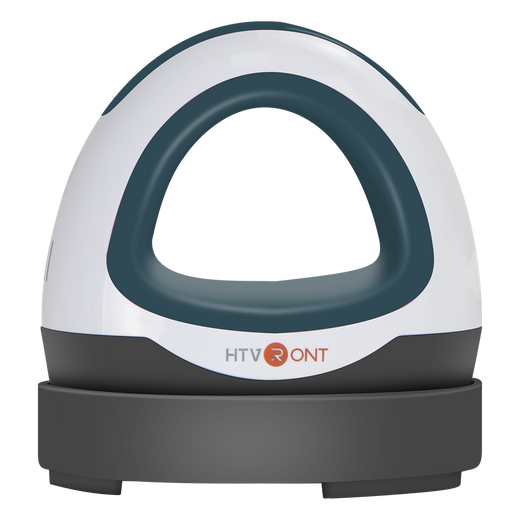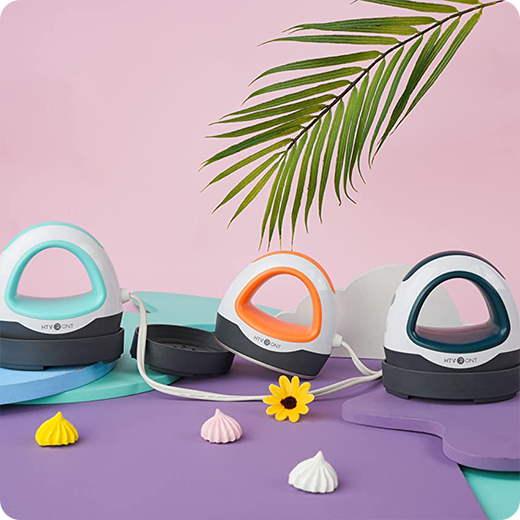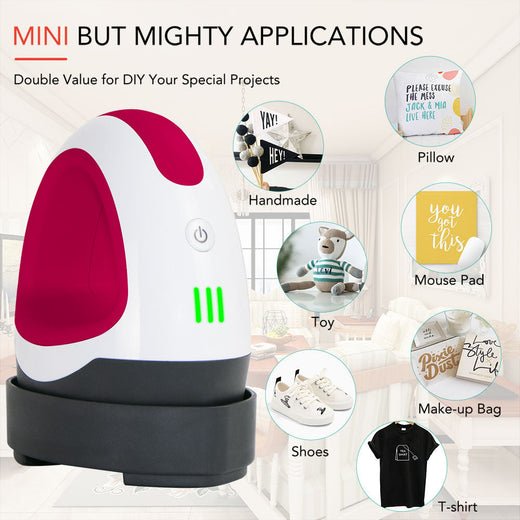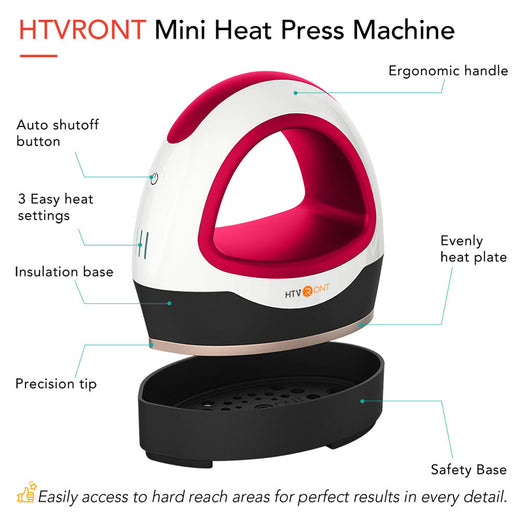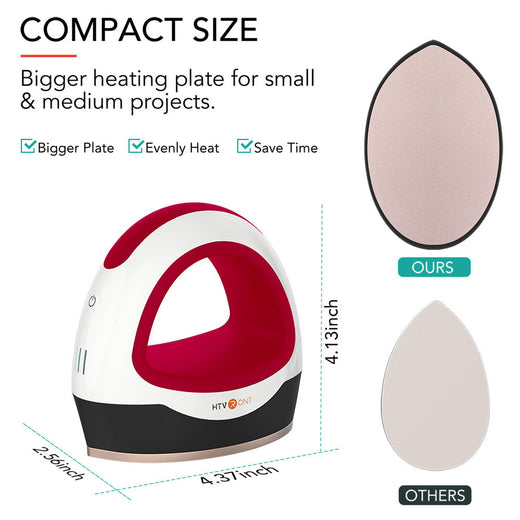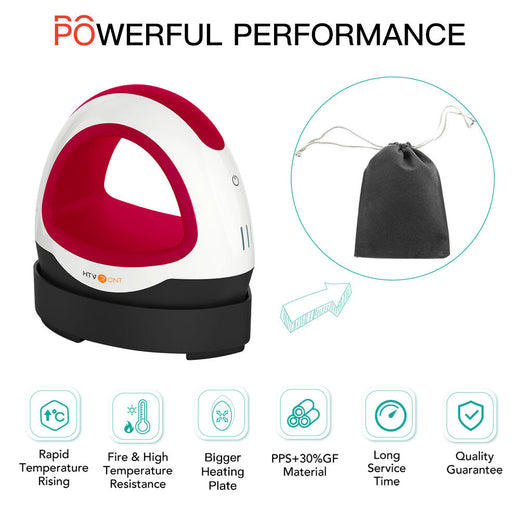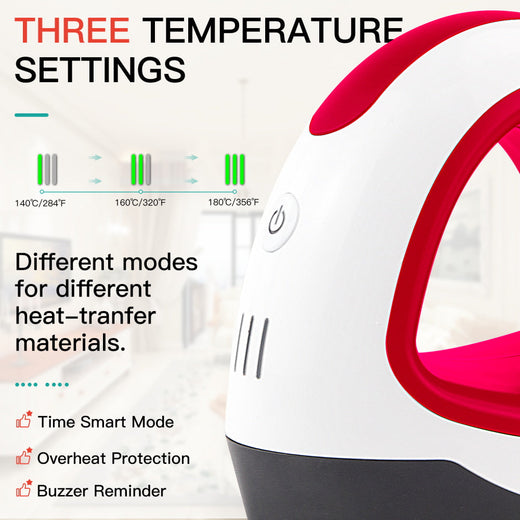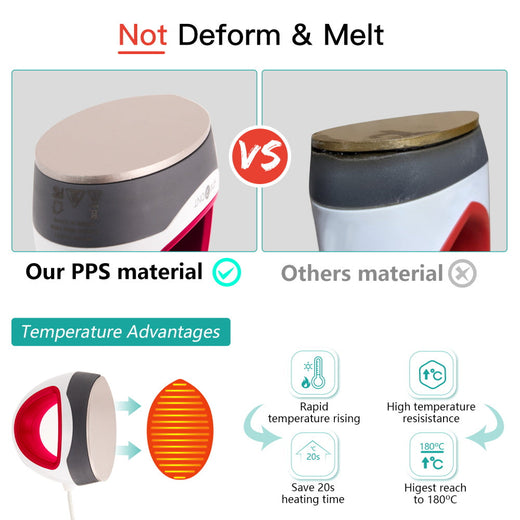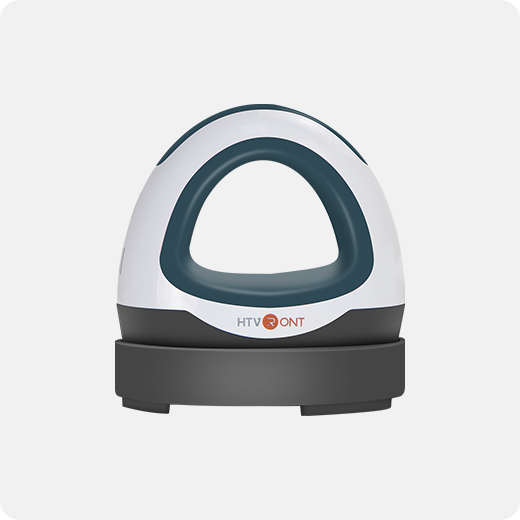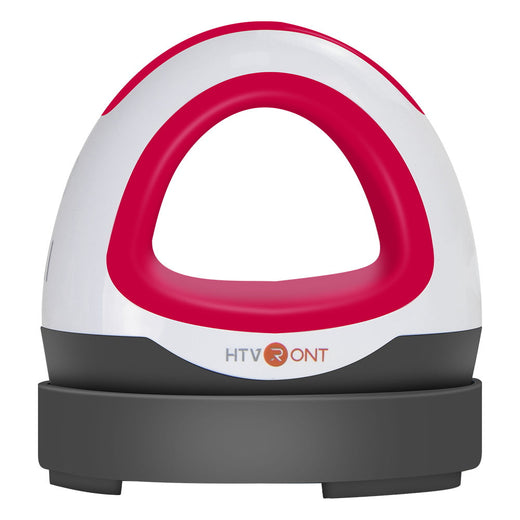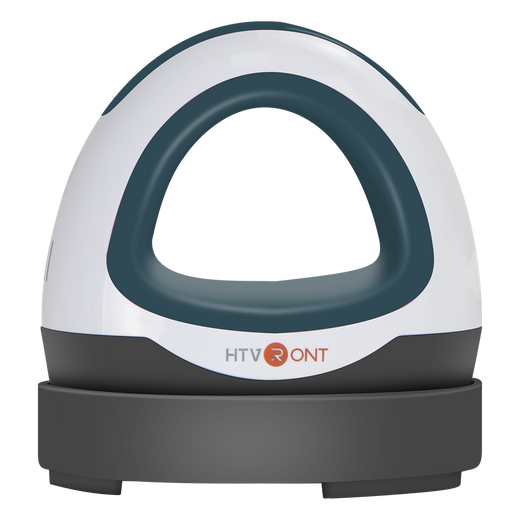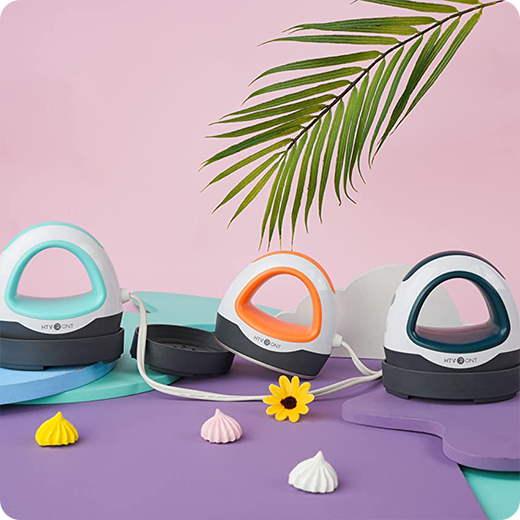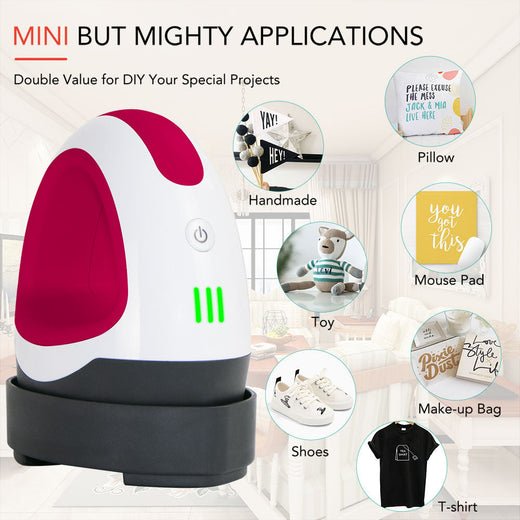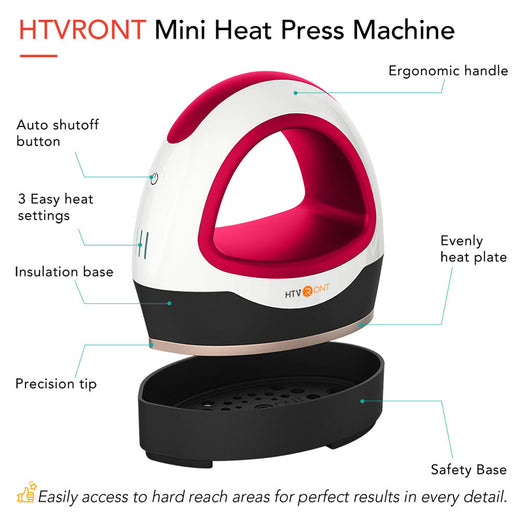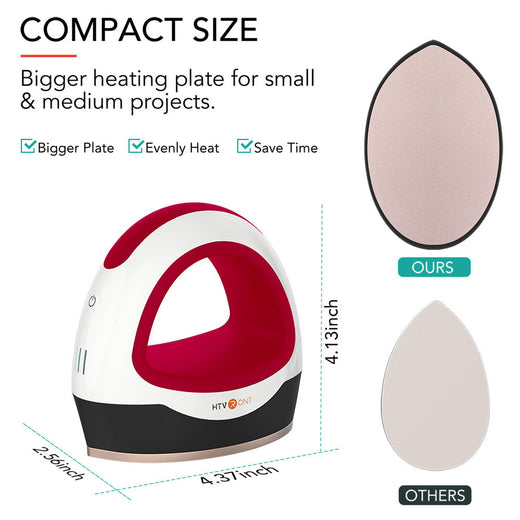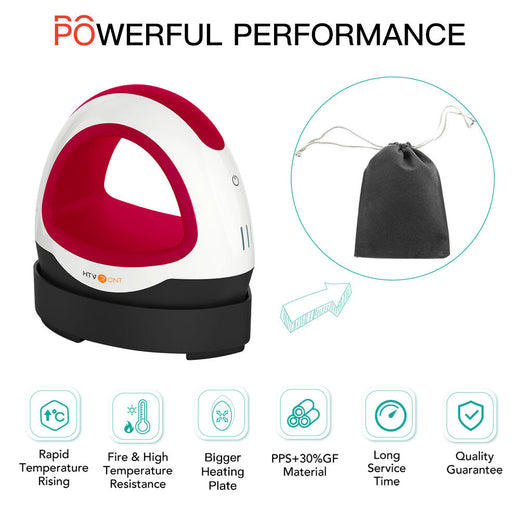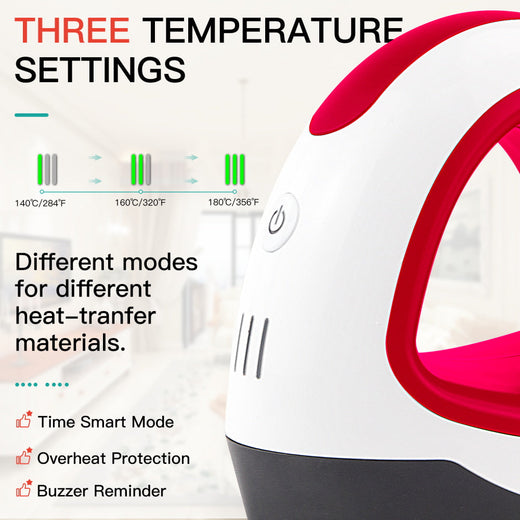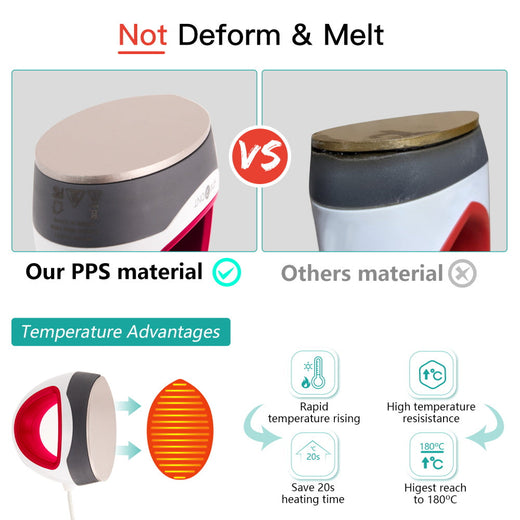 Mini Heat Press Machine - (2 Colors)
【Introduction of HTVRONT Mini Heat Press

HTVRONT Mini Heat Press features a even-and-fast heating plate 2.6'' x4.4'' , which is compact and portable for pressing small objects. Despite its small heating plate, the HTVRONT Mini Heat Press still packs a punch when it comes to performance. It reaches high temperatures quickly and evenly distributes the heat across the entire surface, resulting in vibrant and long-lasting patterns. Enjoy the fun of making crafts using our mini heat press.

【Mini Size But Powerful】

HTVRONT Mini Heat Press's compact size ideal for extra-small or uniquely shaped heat transfer projects with hard-to-reach spaces, which is suitable for personalized patterns on the surface of T- shirts printing, clothing, hats, handbags, masks, socks, etc. It's a good choice for birthday and Christmas and anniversaries gift to your family or lover.

【Fast Heating & Durable】

HTVRONT Mini Heat Press has a ceramic-coated heating plate, which will save you nearly 20 seconds of heat-up time compared with other brands and even heat is guaranteed. In addition, the soleplate adopts durable and high-temperature resistant materials without deformation & melt.

【Adjustable Heating Modes】

HTVRONT Mini Heat Press comes with 3 heating modes up to a max temperature of 180℃, which can meet various of your heat transfer demands. Low temperature: 284℉(140℃), Medium temperature: 320℉(160℃), High temperature:356℉(180℃). 3 Modes by One button, allowing you to freely control the heating degree to meet your different heating needs.

【Safety Use & Auto off】 HTVRONT Mini Heat Press is featured with auto off design for your best convenience and highest safety, they will automatically shut off after 10 minutes of inactivity, so you don't have to worry about forgetting to turn off the heat press. The safety base can protect the heating plate from scratches and prevent people from being scalded.

【High-quality Customer Service】 HTVRONT provides you the high-quality customer service alongside quick problem-solving. If there are any problems you meet with this mini heat-press, please contact us ASAP, we will customize the solution for you to achieve your satisfaction!
STEP 1 SET: Set the appropriate temperature and time

You can see clearly from the outside of the HTVRONT Mini Heat Press that there's only one button on the front side, which allows you to complete the ironing process with one click. This control button can adjust the heat settings freely from the low temperature to the high temperature. For different materials, there will be different temp and time requirements. Typically, heat transfer vinyl asks for a 310-320℉ temperature and 10-second heating, while the sublimation technique usually goes higher at 365-400℉ and for 40 to 60 seconds.

STEP 2 PRESS: Apply heat pressure to the project.

Lay your preheated project flat on the heat press base. Apply the heat press with a certain pressure according to the material's requirements and the heat press instructions. Carefully, glide the Mini Heat Press around your project until the vinyl is fully adhered and the plastic lifts up with ease!

STEP 3 DONE: Finish your creation and put back on base

Cold peel the film, and everything is done.
PRODUCT SIZE:
2.6'' x4.4''
PACKAGE INCLUDES:
Mini Heat Press Machine * 1

4 interest-free payments
Buy what you love and split the cost, it's easy and interest-free.
Add item(s) to your cart
Go to checkout and chose
Enter your debit or credit card information
Your 1st payment will be paid when the order is processed. The rest 3 of balance will be taken automatically every two weeks.
Close